Original Air Date: September 2, 2020
Time: 4:00 PM Eastern
Length: 1 Hour 2 Minutes

Join Baltimore's hometown marine science educator and Ocean Today host, Symone Barkley, as she explores the challenges and successes of keeping our rivers, bays and ocean free of marine debris. This webinar includes updates on the Great Pacific Garbage Patch and the latest on microplastics from the NOAA Marine Debris Program with special guests Christy Kehoe and Dr. Sherry Lippiatt. In this archive you'll learn actions you can take in your own community to help make a difference in this global problem. Kathryn Youngblood from the University of Georgia New Materials Institute talks about how you can help scientists by using the Marine Debris Tracker. And you'll see several videos featured from our award-winning Trash Talk collection.
Our show consisted of three main segments. Feel free to click the buttons below to jump to each segment.
---
---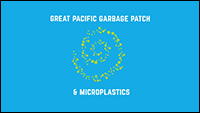 ---
Trash Trip: What You Can Do
WATCH - 20:30
-
You are watching now.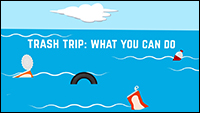 ---
---
Webinar Speakers
Host: Symone Barkley
Symone Barkley is the Manager of Education Programs at the National Aquarium in Baltimore, MD. She has studied algae, blue crabs, and tiger and sandbar sharks over the years. Even with her exciting research experience, Symone's passion for educating young people remains at the forefront of her priorities. She is proud to be supporting students and teachers in her hometown of Baltimore, Maryland through her work at National Aquarium and across the country with NOAA Ocean Today.




---
Christy Kehoe
Christy Kehoe is the Mid-Atlantic Regional Coordinator for the NOAA Marine Debris Program ( MDP), based in Silver Spring, Maryland. She supports partner activities, stakeholder engagement, emergency preparedness and response, and outreach across Delaware, Maryland, New Jersey, New York, Virginia, and the District of Columbia. Since 2016, Christy has supported the MDP's efforts through planning the Sixth International Marine Debris Conference (6IMDC), as a program officer on federal grants, coordinating the Program's partnership with the National Marine Sanctuary Foundation, regional action planning, and supports the NOAA National Ocean Service's zero waste initiatives. She was honored as a 2018 NOAA National Ocean Service Team Member of the Year. She holds a MA in Natural Resources and Sustainable Development from the United Nations mandated University for Peace in Costa Rica, a MA in International Affairs from American University, and a BS in Marketing from the University of Florida.




---
Dr. Sherry Lippiatt
Dr. Sherry Lippiatt has worked for the NOAA Marine Debris Program (MDP) for over ten years, currently serving as the MDP's California Regional Coordinator. She works with stakeholders to identify regional marine debris priorities and provides expertise and oversight for MDP-funded prevention, removal, and research projects in the state. Sherry leads marine debris action planning efforts for California stakeholders and launched the MDP's flagship citizen science program, the Marine Debris Monitoring and Assessment Project. She came to NOAA as a Knauss Sea Grant Fellow in 2010 and was honored as a 2016 NOAA National Ocean Service Team Member of the Year. Sherry earned a Ph.D. in Ocean Sciences from the University of California Santa Cruz, and a Bachelor of Science in Environmental Science from Rensselaer Polytechnic Institute in Troy, New York.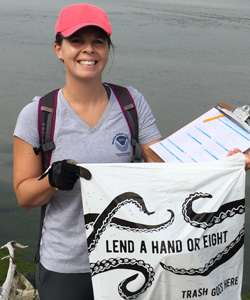 ---
Kathryn Youngblood
As a Research Engineer at the University of Georgia New Materials Institute and the Citizen Science Director of Marine Debris Tracker, Kathryn Youngblood has worked with the Jambeck Research Group for over five years studying upstream solutions to ocean plastic pollution. In 2019, she traveled along the Ganges river as a member of National Geographic's Sea to Source expedition, using the Debris Tracker app to study the litter leakage of plastic waste in communities along the river. Every day, educational, non-profit, and scientific organizations and dedicated citizen scientists from all around the world record data on inland and marine debris with the app, resulting in over 2.5 million litter items tracked in our open database.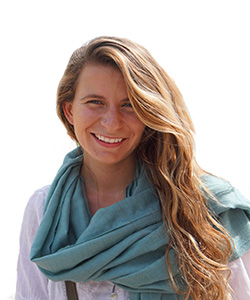 ---