Air Date: October 30, 2020
Time: 4:00 PM Eastern
Length: 1 hour 3 minutes
Discover out of this world creatures and phenomena in the Earth's deep ocean. Visit underwater volcanoes and thermal vents where temperatures range from extremely hot (400° C) to icy cold (1°C). Areas we never believed life could live, but does. Maybe life on Mars or Europa exists - just not in conditions that we have traditionally believed could support life. Join the NOAA/NASA science and exploration crews in the deep ocean as they work together to reveal how life can live outside of the goldilocks zone...in some of the harshest conditions on earth. Their mission is intensifying as we continue our search for other signs of life in the universe.
Our show consisted of three main segments. Feel free to click the buttons below to jump to each segment.
---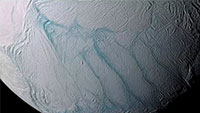 ---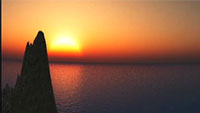 ---
---
---
Webinar Speakers
Host: Symone Barkley
Symone Barkley is the Manager of Education Programs at the National Aquarium in Baltimore, MD. She has studied algae, blue crabs, and tiger and sandbar sharks over the years. Even with her exciting research experience, Symone's passion for educating young people remains at the forefront of her priorities. She is proud to be supporting students and teachers in her hometown of Baltimore, Maryland through her work at National Aquarium and across the country with NOAA Ocean Today.




---
Guest: Christopher R. German
Christopher R. German is a senior scientist at the Woods Hole Oceanographic Institution. His research interests include seafloor vents chemosynthetic ecosystems and astrobiology. He is considered an aggressive user of new technologies for deep ocean exploration. He is the co-lead for NASA's Network for Ocean Worlds, which seeks to harness oceanographic expertise in the search for life beyond Earth.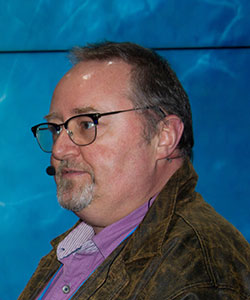 ---
Guest: Dr. Morgan Cable
Morgan is the Ocean Worlds Program Scientist for Formulation at the NASA Jet Propulsion Laboratory in Pasadena, California. She worked on the Cassini Mission as a Project Science Systems Engineer, and is currently a Co-Investigator on the Dragonfly Mission to Saturn's moon Titan and a Collaborator on the Europa Clipper Mission. Morgan's research focuses on organic and biomarker detection, through both in situ and remote sensing techniques.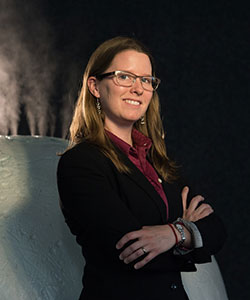 ---