Original Air Date: August 3, 2020
Time: 2:00 PM Eastern
Length: 57 Minutes
Discover America's underwater ocean parks as we "Get Into Your Sanctuary" this full moon! The archive of this live interaction will connect you with information on what national marine sanctuaries are and bring you below the surface to virtually interact with the sea life that call sanctuaries home. Join us at any time as we explore the NOAA's National Marine Sanctuary System from wherever you live.
This month's show featured NOAA Scientist Kathryn Lohr, Education Specialist Hannah MacDonald, and a 360 Virtual Video Tour with NOAA filmmaker Nicholas Zachar, who created immersive underwater experiences to bring these exceptional places to viewers all over the world. National marine sanctuaries span from the warm waters of the Florida Keys to the cool waters off the Washington coast and from the kelp forests off California to the freshwater of the Great Lakes. These places hold special value for conservation, recreation, ecology, and culture, as well as just the aesthetic beauty. Experience and learn more about these special places through the archive of this live interaction.
---
Host: Symone Barkley
Symone has studied algae, blue crabs, and tiger and sandbar sharks over the years. Even with her exciting research experience, Symone's passion for educating young people remains at the forefront of her priorities. She is proud to be supporting students and teachers in her hometown of Baltimore, Maryland through her work at National Aquarium and across the country with NOAA Ocean Today.




---
Field Coorespondent: Debi Blaney
Debi Blaney is an ocean explorer, scientist, and education outreach specialist. A native of Germany, she started her education in Dortmund and Münster, Germany. She holds a B.S. in Biology from the University of Iowa and an M.S. in Neuroscience from Georgetown University. Debi has extensive experience in neuro-scientific research, as well as science education and outreach in the fields of space and ocean exploration. Since early 2016, Debi has worked as a Senior Education and Outreach Specialist at NOAA's Office of Ocean Exploration and Research to help improve ocean literacy and inspire future generations of explorers and scientists. Debi lives in the Washington, DC, area, and when she is not working, she enjoys traveling and being outdoors, especially scuba diving and rock climbing.
---
Hannah MacDonald
Hannah grew up near Thunder Bay National Marine Sanctuary in Alpena, Michigan. From volunteering in Thunder Bay National Marine Sanctuary, to starting a plastic pollution awareness group, to then becoming a NOAA Hollings Scholar, she has always been connected to NOAA's mission of science, stewardship and service. Hannah is a marine steward, passionate about connecting young people to the environment through innovative communication, education and advocacy.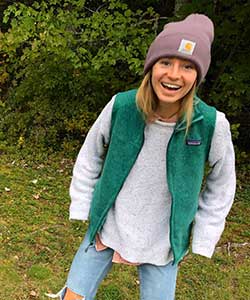 ---
Kathryn Lohr
Katie Lohr is the Science and Heritage Coordinator at NOAA's Office of National Marine Sanctuaries. She previously spent a year with Sanctuaries as a 2019 John A. Knauss Marine Policy Fellow. Katie completed her Ph.D. in Fisheries and Aquatic Sciences at the University of Florida. Her research focused on strategies for increasing the efficiency and effectiveness of coral restoration and included projects in Florida Keys National Marine Sanctuary, the Cayman Islands, and Australia.
---
Nicholas Zachar
Nicholas Zachar is a multimedia producer and filmmaker currently working for NOAA Office of National Marine Sanctuaries as their Video Producer/Diver. In his current gig he has the opportunity to find and share stories about America's underwater treasures and the people who dedicate their lives to taking care of them. He is currently directing, shooting, and editing virtual reality films that will allow viewers to experience and explore sanctuaries without having to get wet. Nick's background in Biology has taken him to the Virgin Islands, where he traveled with a team of biologists on an expedition to aid efforts in the conservation of a critically endangered species of iguana.